Specialist in the sale of product DIY Electronics.
Shop Now
Back

Menu VS-elec

ACCESSOIRES ET CÂBLES

OUTILLAGE & SOUDURE

ASSORTIMENTS

CONNECTIQUES

CÂBLES / CORDONS
ATMEGA328P Pro Mini 328 Mini ATMEGA328 5V/16MHz
Come un grande, leggero per i vostri progetti

100% confiance. Vos achats et données sont totalement sécurisés.

Envoi le jour même si commande validé avant 11h30.
1. 20 digital input/output port RX and TX, D2 ~ D13, A0 ~ A5
2. 8 analog input port A0 ~ A7
3. 1 to the TTL level a serial port to send and receive port RX/TX
4.6 a PWM port, D3, D5, D6, D9, D10, D11
5. Using Atmel Atmega328P - AU microcontroller
6. Support serial download
7. Support external 3.8 V ~ 12 V dc power supply
8. Support the 12 v and the following batteries
9. 16 MHZ clock frequency
You might also like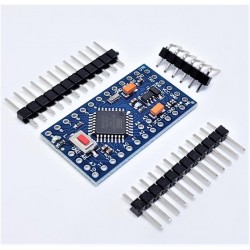 Come un grande, leggero per i vostri progetti
4 other products in the same category: