Specialist in the sale of product DIY Electronics.
Shop Now
Back

Menu VS-elec

ACCESSOIRES ET CÂBLES

OUTILLAGE & SOUDURE

ASSORTIMENTS

CONNECTIQUES

CÂBLES / CORDONS
Environnement
HC-SR505 Mini small human body sensing module for ARDUINO

100% confiance. Vos achats et données sont totalement sécurisés.

Envoi le jour même si commande validé avant 11h30.
The HC-SR505 compact human body sensing module is an automatic control product based on infrared technology. It has high sensitivity, high reliability, ultra-small volume and ultra-low voltage working mode. Widely used in all kinds of automatic induction electrical equipment, especially dry battery powered automatic control products.

Features:
Automatic induction: When a person enters its sensing range, it outputs a high level. When the person leaves the sensing range, it automatically delays the high level and outputs a low level.

Ultra small size.

Repeatable trigger mode: After the high level of the sense output, during the delay time period, if the human body is active in its sensing range, its output will remain high until the person leaves the delay. It becomes low level (the sensing module automatically delays a delay period after each activity of the human body is detected, and the time of the last activity is the starting point of the delay time).

Wide operating voltage range: The default operating voltage is DC4.5V-20V.
Micropower: quiescent current <50 microamps, especially suitable for dry battery powered automatic control products.
Output high level signal: It can be easily connected with various circuits.

Application range:

Human body induction lamps
Human body induction toys
Security products
Industrial automation control
Automatic induction electrical equipment
Battery-powered automatic control, etc.
4 other products in the same category:
Heart Rate Sensor MAX30102 Pulse Sensor Blood Oxygen Concentration Test For Arduino STM32 Ultra-Low Power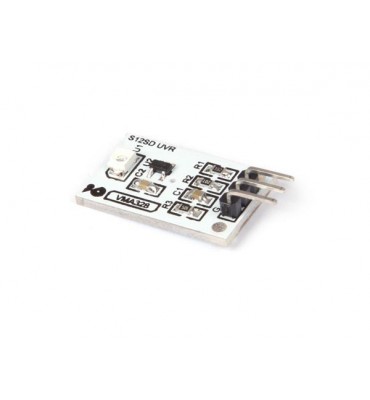 Use this analogue UV sensor module extends to extend your light sensing spectrum
Sensor for measuring dust in the air.