Specialist in the sale of product DIY Electronics.
Shop Now
Back

Menu VS-elec

ACCESSOIRES ET CÂBLES

OUTILLAGE & SOUDURE

ASSORTIMENTS

CONNECTIQUES

CÂBLES / CORDONS
RobotDyn Ethernet Module - ENC28J60, Power In 3.3V/5V

100% confiance. Vos achats et données sont totalement sécurisés.

Envoi le jour même si commande validé avant 11h30.

Politique retours 14 jours.
ENC28J60 is a 10BASE-T stand alone Ethernet module with on board MAC & PHY, 8 Kbytes of Buffer RAM and an SPI serial interface for 3.3V and 5V logics. With a small size the ENC28J60 module minimizes complexity, board space and cost. Target applications include VoIP, Industrial Automation, Building Automation, Home Control, Security and Instrumentation.

Work with All AVR(Arduino) STM, ARM boards.
Connection:
* On bottom side of board have description for connecting of module.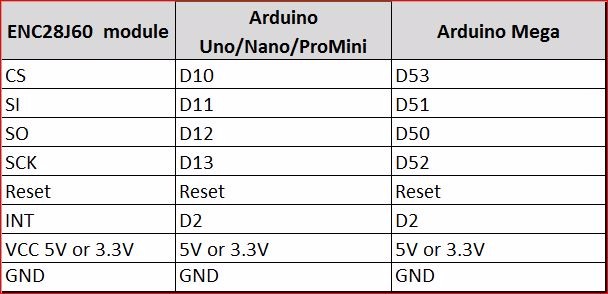 4 other products in the same category: