Specialist in the sale of product DIY Electronics.
Shop Now
Back

Menu VS-elec

ACCESSOIRES ET CÂBLES

OUTILLAGE & SOUDURE

ASSORTIMENTS

CONNECTIQUES

CÂBLES / CORDONS
Environnement
HC-SR04P Ultrasonic Module Ranging Sensor for arduino KY-050

100% confiance. Vos achats et données sont totalement sécurisés.

Envoi le jour même si commande validé avant 11h30.
HC-SR04-P is a wide voltage range of ultrasonic ranging module. Module size and software with the old version of HC-SR04 is fully compatible with the old version of HC-SR04 can seamlessly switch. As low as 3V minimum operating voltage, so that it can be directly connected with the 3.3V power supply MCU.
Product Features:
1. Wide voltage operation: 3V-5.5V
2. Fully compatible with HC-SR04 software and hardware dimensions
3. Detection range:
                    5V: 2cm ~ 450cm
                    3.3V: 2cm ~ 400cm
4. Detection angle: < 15 Angle
5. Use of industrial grade MCU, operating temperature: -20 Celsius - 80 Celsius
 
Note:
1. This module should not be charged connection, if you want to live connection, then let the module Gnd first connected. Otherwise it will affect the module work.
2. Ranging, the measured object area of not less than 0.5 square meters and to try to level. Otherwise it will affect the test results.
3. If the test surface is not very regular or when testing long-range objects, you can use multiple measurements to correct.
You might also like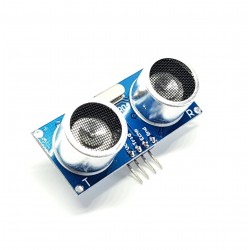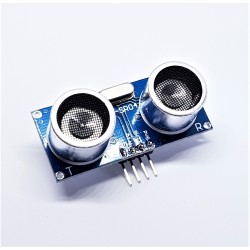 4 other products in the same category:
Delivery date
| Carrier | Information | Delivery |
| --- | --- | --- |
| | 2 à 3 jours ouvrés | |
| | 2 à 4 jours ouvrés | |
* with direct payment methods (e.g. credit card)